History Alive - a journey through the past
Event Information
When
12 Jun 2010 10:00am

-

13 Jun 2010 4:00pm
Where
Fort Lytton, Lytton Rd
Brisbane
Queensland
Other Information
Cost: Adult $15, Children/concession $10, under 5 years free
Contact
For its 12th consecutive year, the Queensland Living History Federation (Inc) will present a multi-period re-enactment event... History Alive: a journey through time at Fort Lytton National Park in 2010.
This time-line event will feature a unique display covering re-enactment and living history groups depicting from the era of Roman Legions through to World War II. History Alive; a journey through time is designed to provide each group with the opportunity to carry out performances, provide living history camps, and to mount recruiting displays.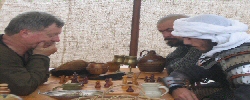 With participation of QLHF member groups, and many other invitees, History Alive promises to be a spectacular weekend.
The public will once again be able to immerse itself in the the sights and sounds of times gone past - where knights of the holy land can be found alongside the combatants of more recent global conflicts, and skills long forgotten can be rediscovered in presentations of day to day life differing greatly from our more contemporary existance.
The BEST trip ever without a time machine !